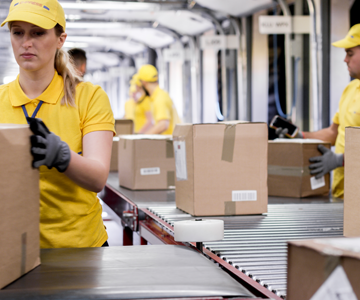 Opportunities and Challenges Abound as Retailers and 3PLs Join the Omnichannel Shipping Trend.
It's always best to be first. However, as the eCommerce landscape evolves, sometimes it doesn't matter if you're first, just that you are in the game. For shippers, manufacturers, and 3PLs, there is still time to join the omnichannel logistics supply chain.
The COVID-19 pandemic accelerated customer acceptance of eCommerce and further upended the traditional retail supply chain.
European eCommerce revenues jump 30% to US$465bn in 2021, according to expectations from Internet Retailing. The UK alone is expected to see e-commerce revenue reach £80,678 million in 2021, according to Statista. Furthermore, revenue is projected to track at an annual growth rate (CAGR 2021-2025) of 3.5%, resulting in an anticipated market volume of £92,464 million by 2025. 
As pointed out in a  webinar "Maximize eCommerce ROI by Quickly Adding Last-Mile Delivery to Your SCM Strategy," featuring speakers from fellow WiseTech Global Group companies Pierbridge and Microlistics, while this all came about quickly, logistics professionals worked quickly to try to close the gaps.
"To keep up, retailers, manufacturers, and their supply chain partners scrambled to adjust to the new landscape often with ad hoc, piecemeal solutions that allowed them to operate as best they could during that time, said Pierbridge's Mike Graves during the webinar. "However, now, as we emerge from the COVID-19 cloud, there is time to take a deep breath and fortify the strategy and solutions. If you haven't addressed it already, you are not too late to enhance your eCommerce fulfillment strategy."
Warehousing Crunch Continues
Another layer of difficulty for warehousing comes from the continuing uncertainty around the UK's exit from the EU single market and customs union. Brexit-related delays have forced companies to boost inventory levels to cut time. At the same time this has put warehouse space at short supply and leading to inventory control issues.
To handle this joint warehousing and shipping challenge brought about by the tremendous growth of e-commerce is the increased involvement of 3PLs and other service providers in the omnichannel strategy of retail. This expanding role is a different play than many are traditionally used to when shipping pallets B2B rather than parcels directly to consumers.
"We've seen retailers, wholesalers, manufacturers, and others turn to 3PLs to fill their commerce and eCommerce needs at a regional level," said Martin Hespeler of Microlistics during the webinar. "They stock inventory at local areas so that the last mile delivery needs are going to be met with the right service levels."
There is a great deal of opportunity from the changes seen in e-commerce. However,  it is froth with challenges for everyone involved in last-mile logistics. However, it will be those that overcome these obstacles that will see success going forward. Some of the challenges are:
Retailers and eCommerce companies face growing costs, increasing complexity, and soaring customer expectations for fast and free delivery.
The carrier capacity crunch is also driving up costs as carriers shed less profitable shipments while at the same time add additional fees for poorly packed parcels.
The labour shortage is also complicating matters and forcing companies to turn to shipping technology to help improve efficiencies while cutting costs.
Retailers expand their carrier mix to include regional same-day and local freight carriers, along with specialty and gig economy carriers adding management issues.
Even as we move on from the grips of COVID-19, the changes in shopping and shipping are still evolving. Learn how SmartFreight can help with your changing needs by contacting us today.