Warehouses urged to get smarter delivering goods
Streamlining the despatch operation in a warehouse using the latest shipping integration technology can give e-commerce businesses a competitive edge, especially when managing high volume deliveries across multiple transport providers.
Customers want short delivery times and precise timescales. Meeting these expectations often means juggling different transport providers and their various systems, which is not an easy business to do manually. Automating the process is a more efficient method of connecting fulfilment and shipping.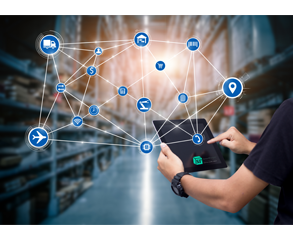 Shipping software specialists like SmartFreight offer automated Carrier Management Solutions (CMS) which cover all the bases by optimising the distribution process through a single platform, positively impacting on the overall efficiency of the business. An e-commerce business that doesn't have an integrated CMS is likely to be processing the same data multiple times through different systems, with the potential for human error and shipping orders by sub-optimal routes or services causing delays, additional costs and a poor customer experience.
An integrated CMS ensures that all consignments are being dispatched in the most efficient manner and in a way preferred by the customer, whether that's the fastest option, the cheapest, the most reliable or the carrier which offers the lowest CO2 footprint.
While e-commerce brands are doing their best to reduce shipping waste by using recycled or biodegradable materials, there is a fine line between economic and environmental efficiency, with the latter increasingly driving consumers' online shopping habits as they become far more conscious about their carbon footprint.
Speed of delivery is a huge consideration for the e-commerce marketplace, especially when customers place multiple orders not necessarily at the same time but are anticipating receiving them on the same day. Why send out multiple packages to one address when a CMS has the ability to consolidate all the orders placed in one day and have them sent out in one package, reducing shipping costs, product miles and helping the environment?
An integrated CMS when linked with carriers' tracking data can provide near real-time information to customers on the whereabouts of their orders via a branded tracking portal, email alerts and SMS which are consistent and easy to follow regardless of transport provider used. This proactive approach and removing the need to send customers to a carrier's tracking site substantially reduces inbound calls on shipment status while at the same time constantly reinforcing the shippers brand.
A CMS will also monitor a carrier's performance, by a range of diagnostic values, such that corrective action can be taken where service levels are lacking. Most CMSs will also automatically reconcile carrier invoices, saving time and the laborious task of doing so manually.
So if you are thinking it's time to review your shipping technology and keep up with the ever increasing demands and challenges in the eCommerce market, then an integrated CMS should be your first consideration.