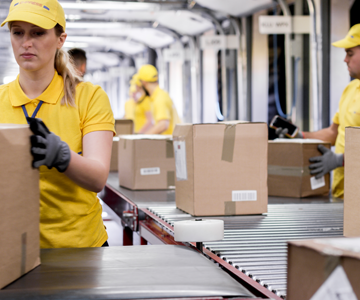 Learn from the 2021 Peak Shipping Season to Ensure a Smooth 2022
The 2021 holiday shopping season proved that consumers are more than willing to shop digitally. Globally, online holiday sales across November and December rose 5% year-over-year to $1.14 trillion, according to Salesforce. The results handily outpaced the predicted $910 billion from Adobe and others.  
Continuing a trend that took hold in 2020 of shopping earlier in the season continued as supply chain troubles dominated the news cycle. 
The shift to earlier shopping –boosted in part over consumers' fears of late and costly deliveries along with supply chain disruptions—saw global online sales during the first week of November make a 16% jump from the same time in 2020, according to Salesforce.  
However, not every shopper was early to the checkout screen, as can be expected.  
According to Salesforce, shopping soared by 18% worldwide during the two weeks leading up to Christmas and by 16% during Boxing Week (Dec. 26-31). This was the most considerable growth recorded by Salesforce for the entire holiday season. 
Overall, ecommerce sales In the United Kingdom were expected to touch £80,678 million in 2021, according to Statista. Revenue is expected to show an annual growth rate (CAGR 2021-2025) of 3.5%, resulting in a projected market volume of £92,464 million by 2025 
Some interesting supply chain takeaways from the Salesforce report: 
There were fewer items: The average number of available SKUs decreased by 2% globally, compared to a 30% increase worldwide over the same period a year earlier.  
Consumers faced higher prices: Worldwide prices rose by 9% year over year.  
There were fewer orders: Although online sales revenues rose overall, the number of online orders decreased by 4% globally as inflation worries curtailed some shopping.  
Despite some supply chain and economic issues curtailing some shopping, the e-commerce explosion—and strain on carriers—is still something retailers, eCommerce shippers, and the 3PLs that work with them will need to continue managing and delivering if they want to stay competitive. 
Here are some ways the right shipping technology can help offset these issues learned from the peak shipping season and get a head start on the 2022 season:  
Drop-ship to drop costs and time:  
To ensure you get the product you're shipping into customers' hands quickly, and cost-effectively it is vital to have inventory close to them—wherever they may be. Drop-shipping from your retail stores, 3PL warehouses, and various distribution centres through last-mile transport providers can save time and costs for you and your customers. 
Don't rely on one delivery partner:  
To ship your product from wherever it may be to your customers wherever they may be in today's omnichannel shipping environment takes more than one or two carriers. Taking a multi-carrier approach to your strategy and your shipping software can help you find the right service, in the right place, for the right costs.  
Know your numbers:  
While industry trends and studies are great ways to get the temperature of the shipping industry, it is essential to know your numbers as well to be able to plan the future. Shipping software that can integrate with your inventory, warehouse, and e-commerce platforms can help you know how you have done historically and how prepared you are for today and tomorrow.  
While the future will always be uncertain, learning all you can from last year's peak holiday shopping and shipping season can help you be as prepared as possible for whatever you may face in 2022.  
What is equally important is to deliver a customer experience that matches their expectations to keep them coming back for years to come. To learn what they are looking for, read our latest eBook "What Do Customers Want from Their Shipping Experience?" Download it here.