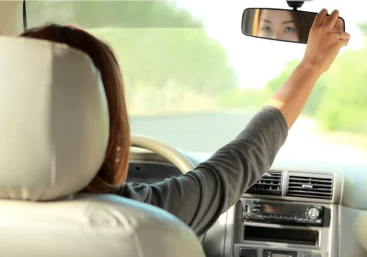 A selection of best final-mile lessons from 2022 and insights for 2023
By now, nearly 3 months into 2023, you've probably seen a multitude of "year in review" and "predictions for the year ahead" articles. In a sea of predictions, tips, and hunches, we sifted through several of these, so you wouldn't have to. We discovered some strong insights from different vantage points and polished them to reflect a few major themes that will influence the next 12 months. Our North American sister company Pierbridge recently published a similarly themed blog, that we are building on here.  
According to Pierbridge, planning for a new year is like driving a car. You need to spend more time looking forward then backward, else you may run into an obstruction on the road ahead. In a car, the rear-view mirror takes up about 5% of the front windshield – with the remaining 95% for looking forward. We think that percentage looking backward and forward is spot on. Keep your eyes on the road ahead when driving and keep your focus on what's coming when planning. 
Looking back at the year that was 
After nearly three years of pandemic-influenced economics, the world's supply chains are still in a turbulent landscape. A few of the more significant stories to impact our industries included:
UK is better equipped to adopt innovative technologies in the road delivery industry than the majority of European countries. The UK is paving the way for automated vehicles (AVs and other emerging technology such as drones which are set to energise the last-mile delivery market. By 2025, the UK will become home to the world's largest automated drone superhighway. 
Ocean shipping rates plunged 60% in 2022. Market conditions made a sharp reversal after freight rates had increased by almost 10-fold in 2021 due to port backlogs and surges in cargo. 
New Zealand Ports of Auckland have been long-embattled with delays, inefficiencies and problems. The port now has consent to deepen the shipping channel to receive larger ships and new management vowing to improve financial performance and safety.
FedEx terminated delivery agreements with smaller carriers and the domino effect was profound, creating what some people called a real David vs. Goliath story.
Looking forward to the year ahead 
Trend 1: Gen Z is coming of age and businesses need to take note. 
More and more industries are starting to prioritise the Gen Z demographic as they come of age and their spending power grows. The supply chain sector is no different. Gen Zs are the first generation to grow up entirely in an online world that transcends borders. Born between 1997 and 2012, there are 2 billion Gen Z worldwide and their buying potential is vast. 
Gen Z will continue to drive digital trends like TikTok's rise and mobile eCommerce. 
It is expected that Gen Z will surpass Gen X in the number of digital buyers by 2025. 
Consider this when you invest in new technology, markets, clients, and products. How best should you position yourself for the savvy demographic that wields trillions of dollars in disposable income worldwide? They will be shopping for themselves now, and soon for their new families. 
For eCommerce sellers, this requires reaching these emerging consumers in the places where they spend their time – online and on mobile devices.  This means shippers will need to adapt new eCommerce fulfilment processes, whether they are retailers shipping online orders from decentralised fulfilment centres, 3PLs taking on B2C fulfilment, or manufacturers shipping orders directly to consumers (D2C). 
Trend 2: Sustainable shipping is coming to a supply chain near you! 
Sustainable is a buzzword that has been bandied about for decades – now as the 2020s unfold we are seeing sustainable materials, technologies, and processes edge closer to a daily reality. Sustainability - at its heart - is about reducing waste and improving efficiencies which saves time, money - and most importantly of all - our planet. 
UK, EU,and Indian government initiatives have voted in a 2% mandate for green shipping fuels by 2030. Green fuels and bio-fuels such as methanol, bioethanol and green hydrogen are being explored to replace harmful bunker / diesel fuels used by large ocean-going vessels. Other initiatives include ships carbon-scrubbing air and water as they move through the ocean.
"Green trade corridors" (zero-emission maritime routes) are being developed around the world. Two such routes are already in use: one exists between Australia and Japan – and another from Asia to Europe. 
The UK has also signed a new "Green Economy Framework" with Singapore. This is a first-of-its-kind, bilateral agreement that will help both nations work towards an ambitious net zero target. It will also bolster and contribute to the further expansion of a vibrant green economy private sector which is growing rapidly in the UK and beyond.  
Building sustainability – like any new system – is a steep learning curve, but once a tipping point of investment and adoption is reached, the momentum picks up speed and there is no turning back.  
For shippers looking to improve their sustainability practices, the focus should be on smart packaging that eliminates unnecessary packaging, optimising carton volume to increase delivery density, moving inventory closer to customer to reduce final-mile delivery distance, and opting for low-emission vehicles in their fleets or carrier selection.  When embracing sustainability, shippers need to control costs because, as we reported back in April last year, consumers are hesitant to pay for greener deliveries. 
Supply chain trends from across the world 
Increasingly, the whole world is connected and the best-practices of one country or industry can invariably inform other nations - or even continents. Here are some valuable predictions from supply chain experts across three continents. 
Asia: Chinese consumers are increasingly moving towards newer digital subcategories of eCommerce. 
Livestream eCommerce is expected to outgrow regular eCommerce by 19% this year - and Social eCommerce is set to expand about 13% year over year.
You are probably familiar with social eCommerce, but what exactly is livestream eCommerce? Essentially, it is a fusion of interactive video with online buying / selling. It lets customers watch a live video on a platform while buying goods at the same time. Imagine watching a live cooking show, interacting with the chef, and then purchasing a set of knives they are selling - all without even leaving the platform. Now imagine the sales potential of a platform like TikTok with 775 million users. 
Companies that are ready for cross-border eCommerce fulfilment into the Chinese market will reap substantial rewards when these consumers come online. 
Latin America: Primed for explosive eCommerce growth 
As the world's second fastest growing eCommerce market, Latin America is set to expand 25% per year for the next decade (outpacing the US, Europe, and East Asia.
From retail to travel to digital goods, improved internet connectivity and mobile adoption means that Latin America is primed to expand quickly. The challenge here is that only 19% of Latin Americans own credit cards and of those, only 6% have cards enabled for international transactions. 
Smart online sellers should look to offer local payment methods that entire populations rely on to expand into Latin America. They should also look for regional carrier options for final-mile deliveries into those countries.  
Europe & N. America: No recession in sight for luxury brands 
Wealthy consumers are fuelling a boom in the ultra-luxury market this year. High-end brands are spending freely and will remain unscathed. Mid-tier brands, however, are going to take a hit if they cannot reposition themselves. 
"What we're seeing now is a re-bifurcation between higher- and lower-income consumers, while the middle-income consumer is hollowing out." This means, value-based and discount retailers are thriving (think Walmart and Dollar General) but mid-tier stores (e.g. Macy's and Kohl's) are the most at risk to lose sales. 
With the Covid-19 pandemic seemingly receding into the rear-view mirror for most of the world, many of the dynamic market shifts and sudden supply chain disruptions we lived through look to stay with us for the foreseeable future, continuously redefining what is the new "normal".  Increasing digital buying and direct-to-consumer fulfilment look to remain a constant as we emerge into the post-pandemic world. Transtream powers eCommerce fulfilment by perfecting final-mile delivery, whether down the street, to the other side of the nation, or across borders into other countries.