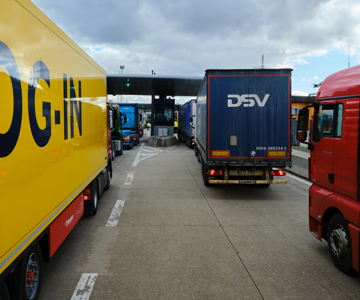 The impact of Brexit on trade and parcel shipping between the United Kingdom and the European Union
Brexit – like any divorce on a grand scale – has had massive impacts on the UK economy – not to mention continental Europe and beyond. Brexit was sold as a simple proposition but proved to be a bigger domino-cascading situation than most people imagined. As always, forging and implementing new trade rules takes more time, energy, and effort than we imagine precisely because one cannot predict the myriad downstream effects within the supply chain.
Let's take a glance at 5 different ways that dozens of countries have been impacted by Brexit.
Delays and disruptions in UK-EU trade
 Since the UK left the EU, customs checks and new regulations have caused significant delays at ports and border crossings. This has led to disruptions in supply chains, with some companies struggling to get their goods into the UK or export into the EU on time. Perishable food products, such as seafood, have been incredibly vulnerable to the new trade barriers.
One casualty of the new food export laws was Stilton cheese. One of Belfast's best-known delis was no longer able to bring in the pungent speciality from the UK because the British manufacturer could not work with the longer delivery times of the post-Brexit trade environment. Essentially, Brexit resulted in the inability to move goods between some of the countries that make up the UK. This is true of many food items and medicines because Northern Ireland remained in the EU common market to maintain the Good Friday agreement, whereas Great Britain has had a harder Brexit following the leave vote.
Increased paperwork and bureaucracy
The new customs checks and regulations require companies to fill out more paperwork and navigate complex new procedures.
"Brexit has increased red tape, not decreased it. It is no longer as frictionless and dynamic as before. This holds true for both goods and services."
This has increased administrative burdens and costs for businesses, particularly smaller ones that may not have the resources to handle the additional workload.
Rising costs for businesses and consumers
Some companies have had to raise their prices to cover the additional costs of Brexit-related bureaucracy and delays. This, in turn, has led to higher prices for consumers. For example, some UK supermarkets have reported shortages of fresh produce, and prices for other goods have skyrocketed. Last year, sugar went up 32% and milk, cheese, and dairy rose over 30%. Olive oil prices rose a whopping 49%
For consumers across Europe, Brexit has also impacted the availability and price of goods. In addition to potential shortages and delays, changes to trade regulations could also lead to increased prices for some products. For example, in early 2021, some UK-based retailers warned that prices for imported fresh produce could rise due to the additional costs of new customs procedures.
Changes in delivery routes and methods
Some delivery companies have had to change their routes and methods due to Brexit-related disruptions. For example, one UK company had to suspend all road delivery services to Europe, and some UK-based logistics firms have started using air freight instead of road transport to avoid delays at ports.
Some UK shippers who export are navigating Brexit challenges by opening fulfilment locations in the EU to service existing markets in Europe. Necessity is the mother of invention.
US supply chains that previously went through the EU to the UK may be subject to different VAT requirements or - because of logistics and extra costs - may no longer be feasible. In such cases, US companies have little choice but to create separate trading relationships with the UK and EU to adjust their supply chains accordingly. 
Uncertainty and confusion for businesses
The ongoing uncertainty around Brexit has made it difficult for businesses to plan and prepare for the future. This has led to confusion and frustration, particularly for those that rely heavily on trade with the EU. For example, some UK-based seafood exporters have had to pause their shipments to the EU due to confusion around new paperwork requirements.
Increased customs checks and paperwork requirements led to significant backlogs at UK ports, causing delays for goods moving in and out of the UK. In early 2021, port congestion was so severe at Felixstowe port that some ships waited a week to unload their cargo.
Relief may be around the corner
The new Windsor Framework agreement will see an easing of the movement of goods within the UK so Brexit implications may soften for Northern Ireland providing the framework is ratified. It will mean that regions like Northern Ireland will have an increasingly attractive foot in both camps of the UK and EU. (Source: EU-UK relations: EU takes further steps to implement the Windsor Framework - Consilium (europa.eu))
3PLs can also provide relief for many businesses. They can deliver goods from their serviced locations in the UK and in the EU to businesses' customers in those countries, rather than opening self-managed distribution centres or relying on cross-border shipping for individual items. This gives businesses importing into the UK or exporting into the EU the ability to continue to service new and existing markets without taking on excessive risk, scaling operations, or eroding per-order margins.
SmartFreight give shippers the ability to manage multiple carriers across multiple countries and seamlessly integrates drop-shipping domestically or globally. All while providing visibility to you and customers through the delivery process and centralising shipping data to gain valuable insights from analysis and reporting.