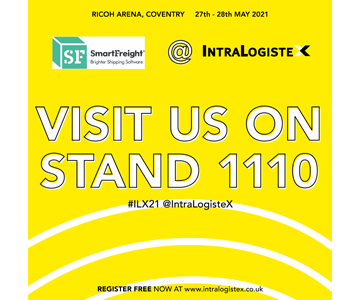 SmartFreight Solutions take to the stage @Intralogistex
IntraLogisteX 2021, Ricoh Arena, Coventry, 1-2 July, Stand No 1110
International shipping software specialist SmartFreight will be showcasing its award-winning logistics solutions for the UK's e-commerce, distribution and manufacturing businesses at IntraLogisteX 2021 on 1-2 July in Coventry.
Part of the WiseTech Global group, a leading developer and provider of software solutions to the logistics industry globally, SmartFreight counts blue-chip carriers in the UK such as Royal Mail, TNT, UK Mail, Yodel, DHL, DPD, Fastway, GLS, Hermes, Nightline, Palletforce and Parcelforce among thousands of companies worldwide integrated into its shipping platform.
Centrepiece for visitors to the SmartFreight stand (1110) at the Ricoh Arena will be live demonstrations of the company's latest delivery system, along with informative videos on how using the firm's platform eliminates the need to access multiple carrier systems by integrating all options into one easy-to-use portal, facilitating lower shipping costs.
The SmartFreight platform automatically selects the optimal shipping choice based on parameters set by the customer such as best price, route, service time or lowest carbon footprint – saving businesses money and scoring environmental points by helping them to strike the right balance between customer expectations and commercial needs.
Embedded in SmartFreight's software is a CO2 calculator for emission figures, giving businesses clarity on the impact a shipment will have on the environment and all the information needed to offset carbon or other greenhouse gases that may be generated.
Natasha Jones, SmartFreight's European Channel Manager, said: "There are a number of green initiatives emissions figures can be used for, and software tools are available that will total up the credit and then apply the offset. Businesses stepping up with bold environmental initiatives run the risk of scoring own goals if they are not aware of emission creation when shipping orders."