Smart Automation can help accelerate the shipping process
Supply chain managers are having to rethink their strategies due to the ongoing rollercoaster for retailers, as physical footfall is driven down even further due to the Covid-19 virus while online stores have seen purchases soar as consumers have let their fingers do the walking over keyboards.
The impact of the public health crisis has had a significant knock-on effect on warehouses, which generally work best when there is predictability of demand. Whereas high street shops had goods delivered, say, 60 items to a pallet to be displayed in-store, now those items need to be shipped separately to multiple destinations. Shipping overheads will thus increase exponentially.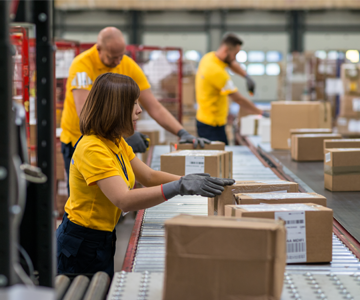 Logistics operations need to be even more flexible and slick enough to cope with the fluctuations that these unprecedented times will bring – and having automated systems in place will make a significant difference in managing volatility and uncertainty.
Consumers are not shy to choose companies that offer instant fulfilment. This means not only are they demanding multiple transport options, but also real-time updates of the location of their goods within the delivery journey, from time of despatch. Customers have no interest in navigating through multiple transport provider websites, but companies need to have access to those providers in order to offer an appealing choice of shipping options – from same day to "free" on less urgent items.
Innovative shipping software solutions, like that offered by SmartFreight®, can help logistics operators streamline delivery options all on one platform, such as free shipping and personalised tracking to reinforce branding. Moreover, they can help warehouses to meet expectations on the delivery options selected.
Freight handlers also need to understand the intricacies of the customer journey and be clear on the role they're playing in creating that experience, be it positive or negative, when delivering goods. This could be at home or globally, including any future challenges due to the UK's split from the European Union – and unexpected global threats such as Covid-19.
We don't know what Brexit is actually going to bring - but the likelihood is it's going to increase the paperwork and possibly costs for moving goods across borders. The message from SmartFreight's Partner Manager Ireland, Gavin Warwick, is that optimising your transport solutions can help businesses cope with both known and unforeseen circumstances.
He said: "Businesses should be making themselves more flexible to ensure operations can handle unexpected changes. Logistics managers can plan for a spike in sales due to events like Black Friday, Cyber Monday and Christmas but Covid-19 took everyone by surprise. Brexit should be a largely planned change.
"We don't know yet exactly what it will bring. However, any potential changes in taxation, customer information and border regulations when shipping to the EU will be updated automatically for all the carriers on our portal. That's our job, saving businesses the hassle, time and effort of doing it themselves and ensuring parcel tracking is kept up to date more rapidly."
How Brexit pans out is currently anyone's guess but having optimised transport solutions can help manage peaks and troughs in demand – keeping on top of stock levels and offering multiple transport options are really key factors for dealing with unpredictable cycles.
Centralising everything to speed up fulfilment through automated processes will help control stock levels – being in the know will ease the pressure. One solution may be to simplify the offering – the same item in only five colours instead of 10, for example, to reduce the risk of being lumbered with excess stock. Another option is to investigate dropshipping – taking the orders but having the order shipped directly from the supplier to the customer's door.
Meanwhile using smart shipping software solutions can also boost customer uptake. A Capgemini 2020 survey revealed that 37% of online consumers would decline to shop at a store that had limited delivery options or a difficult returns process, while 42% would pay extra for an expedited delivery option. Having access to multiple transport providers gives far greater and speedier choice than putting all your eggs in one basket. Building in a level of customer control effectively aligns a retailer's or supplier's brand with high quality service delivery.
Retailers are recognising that while the customer experience starts on our keyboards, it's the direction of travel of their brand beyond the order confirmation page that matters - continuing right up until the doorbell sounds and a flutter of possession and excitement is felt, to the second when, finally, that parcel is physically placed in the recipient's hands.
Pertinent to this dilemma is recognising that customers want visibility of their purchased items. This means they are demanding real-time updates of the location of their goods within the delivery journey, from the time of despatch. Innovative technologies such as SmartFreight® Tracker can closely monitor each shipment via a web portal or phone app, regardless of transport provider used. They allow customer service teams and customers to see the location of a shipment from creation to delivery. A company branded email is sent to the customer containing a hyperlink to a branded web portal where they can check the progress of their shipment on a computer, tablet or smartphone.
This is a system that addresses operational challenges the logistics industry faces and is sympathetic to customer expectations. It has been designed for transport providers to capture shipment tracking events. Using an app, the real-time picture and status of a shipment can be encapsulated, and drivers use their smartphone to scan labels at every stage of the journey.
The benefits of implementing smart shipping software that can empower the consumer, and introducing platforms that enable the retailer to manage the consumer whilst assisting the retailer- shipper relationship, is without question invaluable. Brand marketing is anchored in understanding the value proposition and how this trickles down through the supply chain. The businesses that can demonstrate this at scale will have a greater chance of survival.
The shopping environment is becoming perennial – even the fashion industry is having seasonless collections – and unpredictable. Shifting consumer buying behaviour is impacting on all logistics businesses, retailers and warehouses, so they need to have the mindset that change can in fact be beneficial for business.
The last word goes to Gavin Warwick: "Change has come and will keep coming – are you ready?"