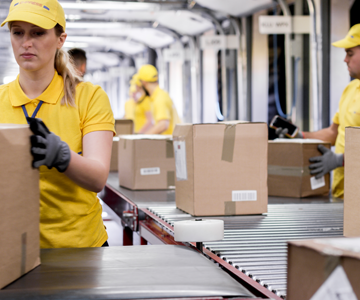 Online Consumers Increasingly Look at Delivery and Shipping Options
Consumers are shopping online more than ever. However, their reputation doing a quick Google search for a product and mindlessly clicking a "Buy Now" button is not precisely correct. A recent study shows that they are spending a lot of time researching the product and the store before deciding to purchase—shipping and returns are part of that research.  
A study by Walnut Unlimited showed that 34% of shoppers spent several days researching big-ticket purchases, with 23% taking a few weeks. During that time, 31% visit an average of three sites before making a final decision.  
Online shoppers are using shipping costs and time as part of their decision 
While that time searching focuses on finding lower prices (65%), it was also used for costs and services beyond the product itself.  
According to the article, at 66%, free delivery heads the list of what shoppers want from a brand or retailer if they are to buy online from them, according to a second study. That's followed by a choice of returns options (54%) – with an astounding 67% of shoppers saying they if the returns process is too complicated, they will not shop from that brand.  
And with the expected continued growth of online shopping, ecommerce brands, the 3PLs that work with them, and others must keep their costs in line so they can offer the shipping and returns that consumers want.  
Online shopping is expected to grow in the next few years 
Online shopping will account for just under half (49.7%) of all non-food sales by 2025, according to new research by Retail Economics. 
In fact, almost 28% of UK shoppers surveyed said they expect to permanently shift more of their shopping online, which will add £19.6bn of online home shipping by 2025. 
Of course, all this means retailers and ecommerce companies will need to have their logistics to handle the crush and deliver the level of service that customers demand.    
Omnichannel shipping helps cut costs and time to deliver 
To handle this growth, an increasing number of retailers are incorporating an omnichannel strategy to help get purchases to [and at times from] customers quickly and less expensively.  
Here are three ways retail and e-tail companies can ensure they are effectively incorporating omnichannel shipping strategy: 
Choose the right omnichannel fulfilment strategy. There are many options to choose from — ship-from-store, buy online pick-up in-store, ship-from-3PL, ship-from-partner, drop-ship from a manufacturer, etc. Retailers must select the one or two omnichannel shipping models that best meet their business needs and customer demands. 
Improve inventory management. With more inventory held and shipped from more locations, it is easy to lose track of what's available — and where it is located when shipping from various storefronts, distribution centers, warehouses, and more. Maintain detailed inventory records, develop a parts entry protocol, automate essential workflows, and utilise systems that increase inventory visibility throughout the supply chain to ensure that products are in the right place at the right time to avoid stock-outs and disappointed customers. 
Invest in technology. The proper logistics technology can take a complicated strategy and make it easier to manage. A misstep along the way in inventory management, sortation, picking and packing, shipping management, product replenishment, and more can eliminate the benefits of taking on an omnichannel strategy. 
The move to online shopping is not going to slow down anytime soon. But, for retailers and ecommerce companies, having the right shipping and returns processes—headed by omnichannel fulfilment— can help you stand out from the crowd.  
Learn how SmartFreight can help improve your shipping efficiencies by contacting us today.