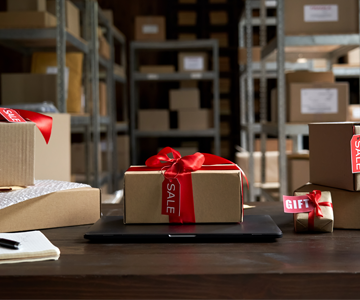 It's Not Too Early for Shippers to Prepare for the Holiday Season
Fall may be fast approaching; however, it won't be long before the busy holiday shopping and shipping season is upon us. And based on early projections, it isn't too early to prepare.
A quick look back at the 2020 holiday season shows that total online sales increased by 61.4% when comparing with the same month a year earlier, according to The Office for National Statistics. Overall, in 2020, online retail sales increased by 46.1% compared with 2019, which was the most significant annual increase since 2008.
Online sales are expected to remain solid as revenue in the e-commerce market is projected to reach £80,678 million in 2021, according to  Statista. So, it would figure that the 2021 peak season will be busy as well, and retailers and e-commerce businesses that prepare early for the holiday shopping and shipping season are the ones that will not only survive but thrive.
There are three things that most retailers can do that will help them cut costs and boost customer experiences when they shop for the holidays.
Omnichannel Shipping—to get items into the hands of customers quicker and save money simultaneously, retailers are delivering from an endless aisle that includes 3PLs, ports, and storefronts.
Multi-carrier Network—no longer can shippers rely on only one carrier. It takes a range of carriers to get product in the hands of customers efficiently.
Fast and free shipping—customers want their products fast. However, they also want them free or low-cost. Therefore, retailers need to mitigate costs to keep that free shipping from costing them too much.
Great. You now know some ways to be successful during the 2021 holiday shopping season. But you're not done yet.
Knowing what to do and managing what you're doing are two different things.
With the right shipping software for retail shipping logistics, retailers and pure-play e-commerce players can get out in front of the peak shipping season:
Omnichannel Management: Choosing a robust shipping technology and make a difficult strategy easier to manage. Along the way, a misstep in inventory management, picking, packing, carrier management, shipping rules, and more can negate the savings that are expected from an omnichannel strategy
Multi-carrier management: Ok, this may seem basic. However, managing an expanded network of carriers that include regional and local carriers and couriers can be tricky. Having a parcel management solution that can cut costs, reduces risks or service disruption, and help realize the benefits of local, omnichannel fulfilment. While once the only way of doing business, today, relying on a single carrier is not an effective strategy.
Rate shopping: Jumping from one carrier's website or software to another to check rates and services not only is inefficient—it can be downright annoying. However, the ability to look at rates, services, delivery time, and more in one spot can save time and money when shipping from a warehouse, distribution centre, or storefront.
The holiday season will be upon us before we know it. By taking steps today to get ahead of the peak shipping season can make all the difference between a happy holiday or not for retail and e-commerce companies.
Contact us today to learn how SmartFreight can help you deliver on your customers' expectations while keeping costs in line.