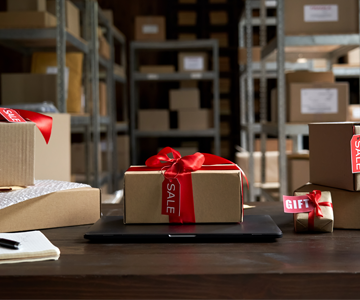 Don't Let Returns Spoil Black Friday Sales this Holiday Season
Despite ongoing economic concerns, Black Friday spending is expected to grow this year. However, it is more than saving money that will get shoppers to press the "buy now" button.  
According to a survey from Emarsys, 20% of consumers said they expected to spend more on Black Friday than they did a year ago. The survey showed that the average UK consumer is projected to spend £283 during Black Friday weekend – a 25% jump from £226 in 2021. 
Of those shoppers surveyed, 53% will be making those purchases online, meaning that e-commerce and retail businesses will have to keep up with consumer demands when it comes to shipping to ensure a happy holiday for the consumer and their bottom lines.  
And for shippers, what may come as a surprise is that while many are shopping based on price of item (27%), right behind that are free returns (25%). That means it is vital that retailers have clear policies, easy returns processes, and keep costs in line to help offset the free returns.  
Returns could be hefty as IMRG says that one in every three shoppers return Black Friday purchases, totalling 30 million returns heading back to stores, warehouses, and distribution centres.  
3 ways to help keep returns from turning holiday sales sour: 
Encourage Alternatives: As is often the case with initial shipments, offer free return shipping only for purchases over a certain amount. Another way to keep customers who want free returns happy while controlling costs is to offer free return shipping only for exchanges or store credit while charging for shipping on refund requests. This can reduce losses while keeping customers coming to your online store to use that credit and add to their original purchase spend. 

Pack for Profits: From bracketing-- buying multiple items to try on or try out—to ordering on a whim, customers give themselves enough reasons to return items. Retailers and e-commerce stores don't need to give them yet another. Items returned due to damage lead the list of reasons consumers have for sending an item back. According to SaleCycle, 80% of consumers surveyed said they returned a product due to damage, outdistancing the second-placed reason of the purchase not matching the description by 16%. While damage may always happen, the right multi-carrier management solution can help retailers pack shipments efficiently. Proper packing not only reduces costs on shipping from surcharges and dimensional weight (DIM) fees, but it also helps reduce damage and waste at the same time, adding to the customers' delivery experience 

Ready, Set, Return: From one-click purchasing and "buy now pay later" options, people want online shopping to be easy. And so do retailers. Automating e-commerce returns, such as with the SmartFreight's returns module saves time. From printing the label to tracking the inbound returned item, the automated workflows will improve the process,reduce costs, increase customer satisfaction and most importantly, increase customer returns visibility 
While Black Friday will always focus on initial sales, returns will always be a cost burden for retail and eCommerce merchants. And as more items are shipped to customers and back during the peak holiday season, that cost is going to add up. However, by shipping smartly and managing the return process efficiently, that cost can be not only kept in check but perhaps turned into a profit.