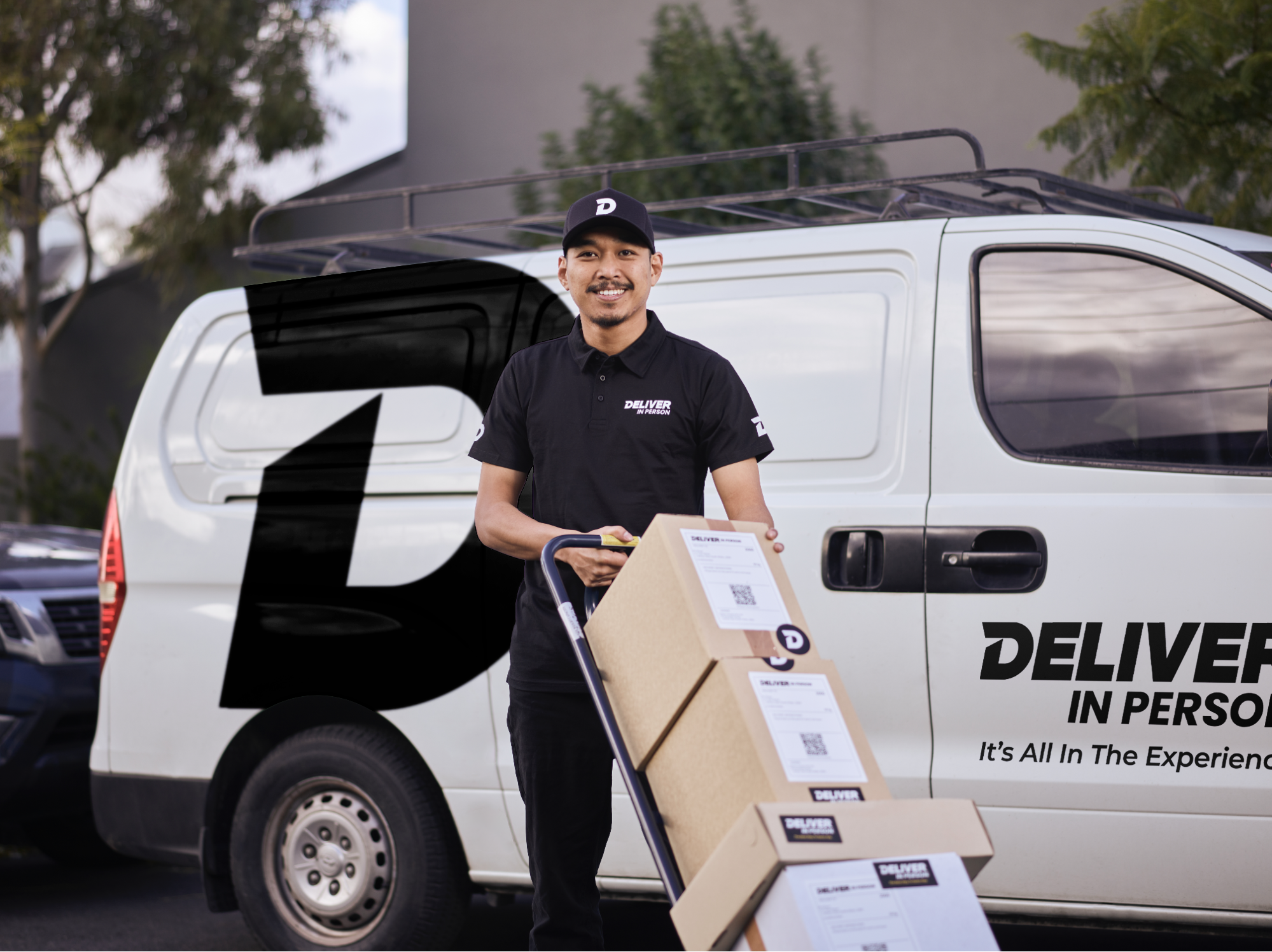 Deliver In Person
The growth of the Australian eCommerce market means there's more purchases, parcels and deliveries than ever before - and the same is true for delivery carriers. New entrants seem to pop up overnight. But between the well-established traditional carriers, and the nimble point to point players, there's an emerging new breed of carrier which is having a remarkable impact on delivery experience for both the retailer and recipient.
"It's fantastic to welcome Deliver In Person to our high-quality fleet of carriers," said Nav Goundar, MD at SmartFreight. "Changing consumer preferences mean reliable next-day and same-day delivery options are increasingly important for retailers. We've been impressed by both their performance metrics and their commitment to delighting the recipient, which is a combination that would benefit any brand."
Operating in Sydney, Melbourne and Brisbane, Deliver In Person delivers eCommerce parcels both next-day and same-day with an impressive 100.0% DIFOT (Delivered In Full On Time) performance metric maintained over their 12+ months in market. Powered by proprietary routing and sorting technology, they hire professional couriers and train them rigorously in customer service.
100.0% DIFOT (Delivered In Full, On Time)
>99% first attempt success
+93 Net Promoter Score
Simple, flat-rates with discounts for volume and no hidden charges
Own workforce of reliable, professional, friendly couriers
Edge to edge metro coverage
Bulk pick up enabled from DC, warehouse, or store
Reverse logistics capable with pick up verification and workflows
After hours delivery, including evenings and weekends
Real-time tracking, proactive triggered communication and direct line to your driver
Genuinely helpful customer service
"Deliver In Person was born because of a simple problem we can all relate to - a birthday gift ordered online which missed its delivery deadline," says Darren Kawalsky, Chief Commercial Officer of Deliver In Person. "Our founding team set about creating a perfect delivery service for the Aussie eCommerce market - next-day and same-day delivery, driven by technology, and built for scale."
"We felt there was an opportunity for delivery that can combine the speed and flexibility of the point to point, with the reliability and professionalism enterprise businesses seek from the traditional incumbents. We've included business-friendly features, such as edge-to-edge metro coverage, simple flat-rates with volume discounts, and we can collect a single parcel from a store right through to bulk pick up from a DC."
However, Darren says the real secret to their success has been obsessive customer-centricity, which is paying dividends. "Our customer satisfaction score is 4.9/5 stars; our Net Promoter Score is +93, which is leagues ahead of the industry average. We put this down to two things: our attitude and our transparency. All of our drivers are selected based on their empathy and ability to think outside the square, so they go the extra mile for the customer waiting an extra 5 minutes, bringing the parcel inside if asked. And that's supported by transparent tracking and proactive communications that keeps the recipient informed and in control."
This approach is driving a measurable commercial impact for its clients: Darren cites one retailer that reduced their customer service volumes by 60% since signing on with Deliver In Person as their parcel enquiries fell to 0.
"Delivery experience is the new battleground for the eCommerce customer," concludes Darren. "Through working with us, our clients have an extra lever when it comes to retention, through providing exceptional deliveries that customers love."