Businesses need to get on-board the green logistics bandwagon.
Every UK business should be seeking to optimise their delivery systems but how to achieve this without increasing CO2 footprint is the dilemma for logistics managers who are treading the ever- finer line between economic and environmental efficiency.
The UK has bucked the upward trend in global carbon emissions: the mass closure of coal-fired power stations has helped reduce UK greenhouse gases (GHG) which in 2017 were 2.7% lower than in 2016 and 42.1% less than in 1990.* But huge challenges remain to reduce emissions still further to meet government targets, especially in transport and parts of industry.
Short-term goals for cutting CO2 emissions might be on track but some experts believe the UK Government's long-term strategy of an 80% reduction for the nation by 2050 looks like pie in the sky. However Green Logistics, which aims to measure and then minimise the ecological impact of supply chain activities, could play an important role if the target is to be achieved.
Businesses stepping up with bold environmental initiatives run the risk of scoring own goals if they are not aware of emission creation when shipping multiple orders, especially where delivery parameters are set by their customers. That's why leading shipping solutions providers such as SmartFreight are showing the way with a CO2 calculator incorporated into shipping software.
Having the ability to calculate emission figures is one thing, but what do you do once you have that information? To compensate for carbon or other greenhouse emissions, companies can offset the calculations, in other words turning them into something positive for the environment such as planting trees and cleaning up waste areas like old rubbish dumps. There are a number of green initiatives for which you can use emissions figures, which are entirely up to the business. Software tools are available that will total up the credit and then apply the offset.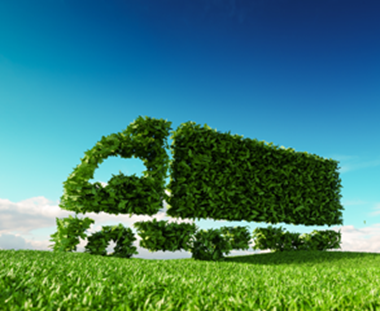 Good examples of low hanging fruit that businesses can look at is waste management within the office and renewable electricity. However, everyone in your supply chain has got to be on the same journey: an emissions calculator is not a whipping tool, it's about getting in the canoe and everybody paddling in the same direction.
Communication is vital for getting customers and suppliers on board by conveying a company's intentions as well as its commitment to sustainability. This could be by offering a green delivery service as an alternative to a fast option as long as there are no hidden cost implications. Clients might say this order will take seven days to get to me but at least I know it's having a lower impact on the environment, logistically speaking.
Companies that openly and transparently report significant emissions reductions and quantifiable savings are far more likely to not only meet their sustainability targets, but also get credit from stakeholders and customers for doing so.
You also need to be realistic when setting GHG emissions targets. Having a gung-ho approach to carbon reductions from day one may be overwhelmingly difficult to achieve – staff and supply chain suppliers will quickly lose interest in the initiative. Start off small and scale up the goal, but doing nothing is the worst-case scenario. As the issue of global warming escalates, a business not displaying a community-minded spirit in doing the "right thing" within its supply chain sends the market a 'don't care' message, one that could well be detrimental to doing business not only now but more so in the future.
Integrate information management into sustainability initiatives. Companies should link existing IT systems to carbon management – not only to monitor their own progress, but also to help suppliers meet stated objectives. This data guides risk assessment and helps ensure sustainability performance within required tolerance levels.
Focus on performance improvement, not just compliance. Companies that move beyond compliance and risk mitigation to identify opportunities for improvement are far more likely to engage and collaborate with suppliers. Success in this area will likely result in new partnerships: explore new business models with them, including the important and growing eco-friendly consumer niche, working in concert to build a business case on sustainability.
To sum up:
Set a reduction goal – but be
Communicate that goal - just making your business teams aware of the reduction position will have immediate
Look at the waste in your business – plan to reduce it as a
Involve your supply chain. You will be surprised how many of your providers are already taking steps to reduce their
Use technology to help you monitor
Challenge the traditional CO2 footprint in your business:
Forklifts – electric is friendlier.
Delivery vans – do they really need to be diesel or petrol powered ?
Road and sea transport creates less CO2 than airfreight.
Many transport providers have already picked up the CO2 emissions baton. Blue-chip couriers such as DHL, USP and FedEx are having a crack and good on them for doing so. In the UK in particular we're seeing providers moving to sustainable transport fleets, including USP's first London-based range-extended electric vehicle aimed at reducing emissions along delivery routes.
Moving away from planes trains and automobiles and into the electricity environment there is a company in Blackburn which provides sustainable energy management and is doing what it preaches by installing solar panels on its warehouse roof to power the company's vehicles, which is a great initiative. Furthermore, we are seeing some of the big 3PL providers moving towards more sustainable pick and pack operations using solar energy to drive conveyors as an alternative to traditional electricity driven systems.
Don't ignore the CO2 emissions issue in the delivery chain – it's not going to go away. Climate change is a global challenge and yes, some countries are paddling in the right direction faster than others. However, I believe everyone now realises that hiding from or ignoring this topic is simply not a choice any more.
Kerry Holmes  – MD Europe and South Africa