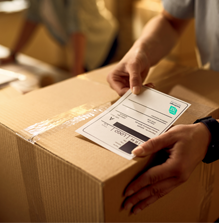 5 Ways Multi-Carrier APIs Can Help You Reduce the Cost of 'Free' Shipping
Free shipping isn't free. At least not for retailers and e-commerce companies. For them, there is always a cost for shipping. However, by carefully managing transportation costs at all points in the delivery cycle, they can keep costs in line and turn shipping into a competitive advantage.
Even as parcel demand and the carrier capacity crunch continue to drive shipping costs up, consumers increasingly expect free shipping and fast and on-time delivery.
For e-commerce players, costs are measured in shopping cart abandonment, customer attrition, and margins. By using multi-carrier shipping APIs across the enterprise, merchants can realize the best of both worlds: an improved customer delivery experience along with reduced costs.
Reduce Shopping Cart Abandonment
Shopping cart abandonment is high for most e-commerce retailers.
The average global cart abandonment rate for all industries in March 2020 was 88.05% of online shopping carts abandoned. (SaleCycle)
Invesp puts the global shopping cart abandonment rate at 65.23%.
And all that abandonment comes at a considerable cost to companies.
According to 99Firms, globally, USD 4.6 trillion worth of merchandise is abandoned annually. Therefore, considering expenses to attract customers and inventory is a significant hit to retail and e-commerce companies.
Increasingly, operations and IT managers are working together to incorporate the use of multi-carrier shipping APIs to automate transportation cost control processes within their enterprise systems.
Here are the five best use cases that management should consider when investing in multi-carrier shipping APIs integration development:
Order Management Systems: Shoppers want to know cost and delivery options early in the checkout process. Order management and e-commerce platforms can programmatically call APIs to rate shop carrier costs and delivery times, finding the most cost-effective way to ship items early in the process. This will reduce the costs of free shipping and reduce cart abandonment due to high or unexpected shipping costs, which was the main reason 55 percent of people said they abandoned their shipping carts.
Warehouse Management Systems: It is a surprise to many that most WMS systems do not consider transportation cost when determining the best way to pack or palletize orders. SmartFreight's API can take the guesswork out of the process by instantly calculating the best way to fulfil an order, saving time and shipping costs while reducing waste.
Ship from Store and Supplier Portals: Shippers are increasingly sending orders from locations closest to their customers to reduce shipping costs and speed up delivery times. Others seek to provide an endless aisle of inventory by shipping from suppliers directly if it makes sense. In either case, look for APIs that can determine shipping costs for multiple carriers from any ship from location while automating packing instructions, label printing, and special requests.
Customer Service Management: Tracking orders is an integral part of the customer delivery experience.
Most UK customers (57%) prefer to receive tracking notifications by SMS
35% prefer to use the courier's app
17% prefer Whatsapp.
54% said they also use email to check tracking notifications
Whatever the information vehicle, getting accurate and timely tracking information is essential. Multi-carrier tracking APIs can provide customers with proactive updates on delivery times and, more importantly, any exceptions to a shipper's delivery promise. Augment APIs by embedding widgets in your customer service website to automate self-help order tracking.
Returns Management: Shippers are using APIs to automate returns processing. A self-help returns process that lets customers print their return labels (routed to the appropriate disposition centre) from your website is convenient for customers and provides the perfect opportunity for building relationships with customers to keep them coming back in the future.
APIs can have an impact on costs and customer experience throughout the order lifecycle. Make sure your developers are satisfied with the ease of implementation, documentation, and support of shipping APIs. There is a real benefit to working with the right technology partner to help you access all the carrier services you need.
Having the right tool for the job, and in this case, the proper shipping API can help shippers streamline operations and cut costs. And, having the best technology partner for shipping APIs can make the process smoother.